Marex Boats offer a range of the highest quality and ingeniously designed family motor yachts.
MAREX – KING OF THE SEA
The range extends from the Marex 310 Sun Cruiser, to the elegant Marex 375 Cruiser. The new Marex 330 Scandinavia also made her world debut at the Cannes Yachting Festival in September 2021. It offers a truly versatile range of options and configurations.

The range is equally suited to relaxed days at anchor in the Balearic Islands or ambitious, extended adventures, with every need catered for – even on the smaller models. The ability of the boats, but also the on-board comfort, space and volume is second to none.

The space, endless practical touches, quality and ingenious design of the Marex Boats range never fails to strike a chord with our clients. Today, the models are offered with solar panels, water toy racks, floating sun pads, super-fast canopy systems and more.

These are true "Family Boats" and will encourage your boating in comfort. The range carries out the Scandinavian tradition of quality, practical and adventurous boating, born from generations of shipbuilding and seagoing experience. We see our clients use their boats more often, travelling further and extending their season with clever hard top and canopy designs. These canopy systems can be opened or closed within a matter of minutes (or perhaps seconds) should you wish to protect the cockpit or open up the fore and aft extended sun roofs.
Marex is a brand where clients can invest with confidence. An experienced builder, first established in 1973, with decades of yacht building expertise. The business has a strong financial position, timeless range and reputation for exceptional residual values.
Berthon Spain are the exclusive dealers for Marex Boats in the Balearic Islands – with our headquarters based in the centre of the yachting scene in Palma de Mallorca, and a network of trusted agents throughout the various islands and Balearic marinas. Our purpose built service centre and experienced team are here to support our clients in every aspect of their yachting plans, whether it be regular maintenance, winter storage, guardiennage or even concierge services.
We would be delighted to discuss the Marex Boats range and your personal requirements in more detail. Please don't hesitate to contact us.
---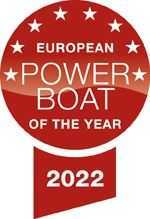 The Marex 330 Scandinavia has been awarded the European Powerboat of the Year 2022 Award (up to 14m), which is the boating alternative of the Oscars. This is the fourth time a Marex boat has won the European Powerboat of the Year and they are now one of the most awarded boat manufacturers in Europe – of all time. The new Marex 330 has been praised in the foreign press and also won the prestigious Best of Boats Award in November 2021, in Berlin.
Contact Details
Berthon Spain
Edificio Dux – Calle Porto Pi 4 – 1
Palma de Mallorca
Baleares
07015
For Yacht Sales/Brokerage:
E-Mail: brokers@berthonspain.com
Tel: +34 871 044 659
Mob (Simon Turner): +34 639 701 234
Mob (Ben Toogood): +34 605 644 272