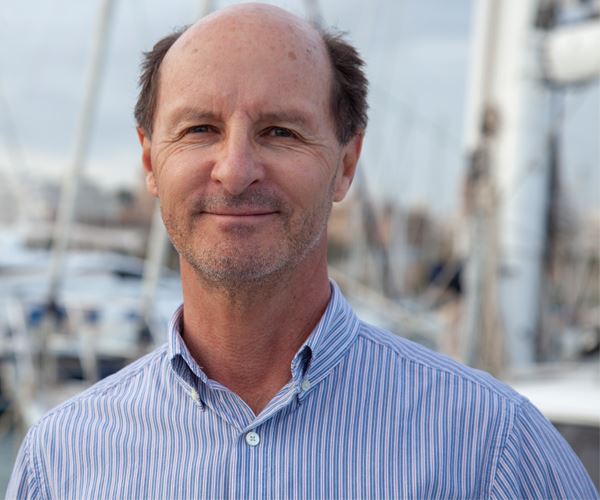 Many years ago, Managing Broker Simon Turner – then a young lad, took a holiday job at Berthon Lymington Marina… Little did he know where this would lead. Come the end of summer he was enticed to work in the 'brokerage' office next-door – making tea, filing, and learning sales from the ground up.
Forty plus years later, here we are!
A strange tale – but true – this is how, by chance, Managing Broker Simon Turner started working in this remarkable industry.
He stayed with Berthon for over ten years, building up his experience under excellent tutorage. In 1987, he became a full "Broker" member of ABYA (the Association of Brokers and Yacht Agents) and remains a member today.
Berthon International were then sales agents for Baltic Yachts of Finland, and for Trintella Yachts from Holland. Showing their products at the London and Southampton Boats Show/s was further valuable experience. During that period, Simon was personally involved in more than 250 yacht sales of all types and make of yacht – sail, motor, and racing yachts.
In the early 1990s, the opportunity arose to move to Mallorca and work with Nautor's Swan. Sunshine and new opportunities beckoned, so Simon and his wife moved in March 1991. During the following 12 years, he sold more than 100 Nautor Swan yachts. They were wonderful years, with a great many sales, some travel, factory visits and interesting experiences.
However, some things are hard to leave behind completely, and with changes from Nautor's Swan, in 2003, Simon worked for Berthon International again. This time in Mallorca, setting up the first Berthon Spain brokerage. Only a few years later and the office was again local agents for Nautor (as well as Berthon Spain).
He writes: "I was once again embroiled in selling all types of yacht. Not just Swans, but also yachts from Baltic, Windy, Moody, Oyster, Princess, Hallberg-Rassy, San Lorenzo, CNB, Sunseeker, Jongert, Nordia, X-Yachts, and various custom vessels.
In 2008, the opportunity arose to start my own business together with a Dutch colleague and from 2008 until May 2020, we operated Northrop and Johnson Spain. 2008 was a tough year to start a new venture but we succeeded! We gradually expanded the business and grew the size and value of the vessels we sold.
All good things must come to an end they say. 2020 was again an opportunity to review life, take stock and move along. That is exactly what I did – taking my own path. My path has led me back again to the second iteration of Berthon Spain in Palma de Mallorca.
Whilst there may be comfort in old friends, there are many new faces amongst Berthon's crew, and this is more about another new adventure.
It is wonderful to be able to concentrate more time on talking to clients and dealing with yacht sales in Spain (rather than operating the business side of this industry). Berthon Spain has, in recent years, built up a formidable service, refit and guardiennage team here in Palma de Mallorca.
That side of the company is expanding with new facilities and new offices."
Working for Berthon International – Simon's role in Mallorca is to strengthen the sales operation, concentrating on sailing yachts – which has been his main forte these last forty plus years.
Our Berthon Spain sales department has a separate office from the service team, but they co-operate closely – as of course does all the Berthon family in their international offices.

Contact Details
Berthon Spain
Edificio Dux – Calle Porto Pi 4 – 1
Palma de Mallorca
Baleares
07015
For Yacht Sales/Brokerage:
E-Mail: brokers@berthonspain.com
Tel: +34 871 044 659
Mob (Simon Turner): +34 639 701 234
Mob (Ben Toogood): +34 605 644 272