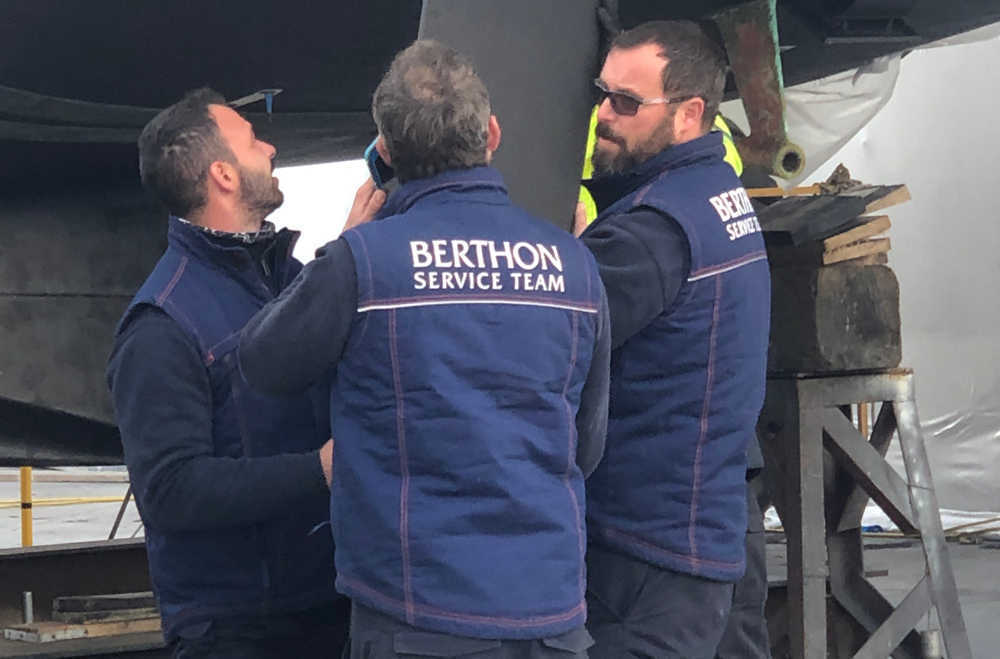 Yacht Repair & Maintenance
Berthon Spain are often a first port of call when it comes to yachts coming into Palma, and the surrounding area, that have unfortunately suffered damage; be it structural damage to the fibreglass, fibreglass delamination, lightning strikes or groundings.
Of course, these are never happy times for yacht owners, but as a team, we are pleased to be able to assist them whenever and wherever possible, in getting things ship shape again. As one might expect, it is critical that any yacht repairs are finalised in conjunction with our surveyors, so that boat owners and insurers can be sure that a yacht has a clean bill of health after an incident.
Of late, Berthon Spain has dealt with a number of interesting projects, including a yacht that had suffered some serious electrical corrosion. This required that one of the rudders, the rudder bearings, all of the thru hull fittings, the P bracket, the propeller shaft, the propeller and all of the refrigeration equipment be replaced. With a project such as this, Berthon Spain's team are not only working closely with a surveyor but also the build yard, to ensure that the repairs are indistinguishable from the original fit out.
Following these needed repairs, our team will then set about undertaking all the 'regular maintenance' to ensure that the yacht is not only repaired, but that she returns to service in tip top condition.
When Berthon Spain's team carry out this type of yacht repair, as a matter of procedure, we will always check everything else on-board to make sure there has been no knock-on effect caused by the damage. Quite often owners want to take this time to make some improvements and updates as well, such as renewing the electronics after a lighting strike. Because Berthon Spain has a multi-faceted team, we are more than qualified to help or offer advice during this process.
Why Choose Berthon Spain for Yacht Repair?
The service that Berthon Spain offers is one where we assume all responsibility for any project, even if sub-contractors are involved. This method has proved to be the best as the owner has only one point of contact, and a Berthon Spain team member is then involved in every aspect of the process, co-ordinating the whole project, or further refit, so it runs to a schedule.
We make sure that everyone is updated as regularly as possible through the process. If during the refit period we come across other faults or there are delays with delivery of equipment or other bumps in the road, we ensure that these are scheduled carefully so not to cause unnecessary disruption or delays for the yacht owner.