Recent Projects Autumn 2018
FABRICATION YACHT PARTS
We proudly show you some of the work we've done recently for our clients.
Our Fabrication Department is running full-steam to get all the work done.
They use their magic tricks to make our clients wishes come true. And they use their creativity to the solution for any issue on our clients yachts.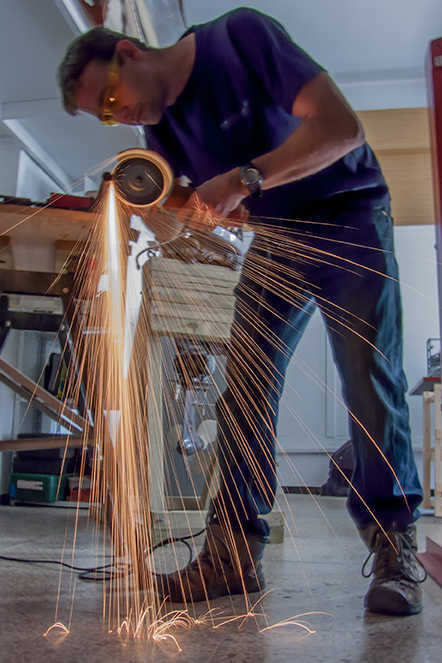 FABRICATION SKILLS
Before & After
Custom made sheave
for SY Rainbow
The crew of SY Rainbow came to us needing a new sheave for a load sensing pin for their vang. The sheave will help protect the line and distribute the load correctly on the load sensor pin.
They called us on Wednesday and needed this manufactured before they left on the weekend. We delivered to them Thursday afternoon (less than 24 hours later!!) a quality product, delivered on time and at a fair price!
FABRICATION SKILLS
From plan to reality
Custom made tender
roller for a CNB 76
This CNB 76 was having a lot of problem with their Williams tender hitting the swim platform. Not only did this damage the swim platform, but on one occasion it almost sank the tender.
We adapted their current set up to protect the teak on the platform and then made this custom roller system so that the first thing the tender touches is the roller.
This not only protects everything but it also makes the tender easier to handle when it comes in and is very stable. An ingenuitive system all designed and made in house at Berthon Spain.
FABRICATION SKILLS
Woodwork / Carpentry
Custom made engine bay hatch
Working with some of composite partners we designed this new engine bay hatch to allow easier access to the engines on a Wally tender. The previous set up meant that the engines had to be removed any time major service work was needed.
The hatch has been made much bigger and then re-covered in new teak and installed back on board.  We also made some front access hatches from within the cabins which are almost invisible but when access is needed can be quickly removed.
Future service work will now not only be easier but a lot less expensive for the owner.
Autumn has officially made its entrance and we are looking back on a beautiful summer. It was a warm and busy summer. But no time to sit still, because refit season has started!
read more